Perforated (Dotted) Headliner Marine Vinyl Fabric - Flexa
Sale

$ 6.99

Regular price

$ 19.95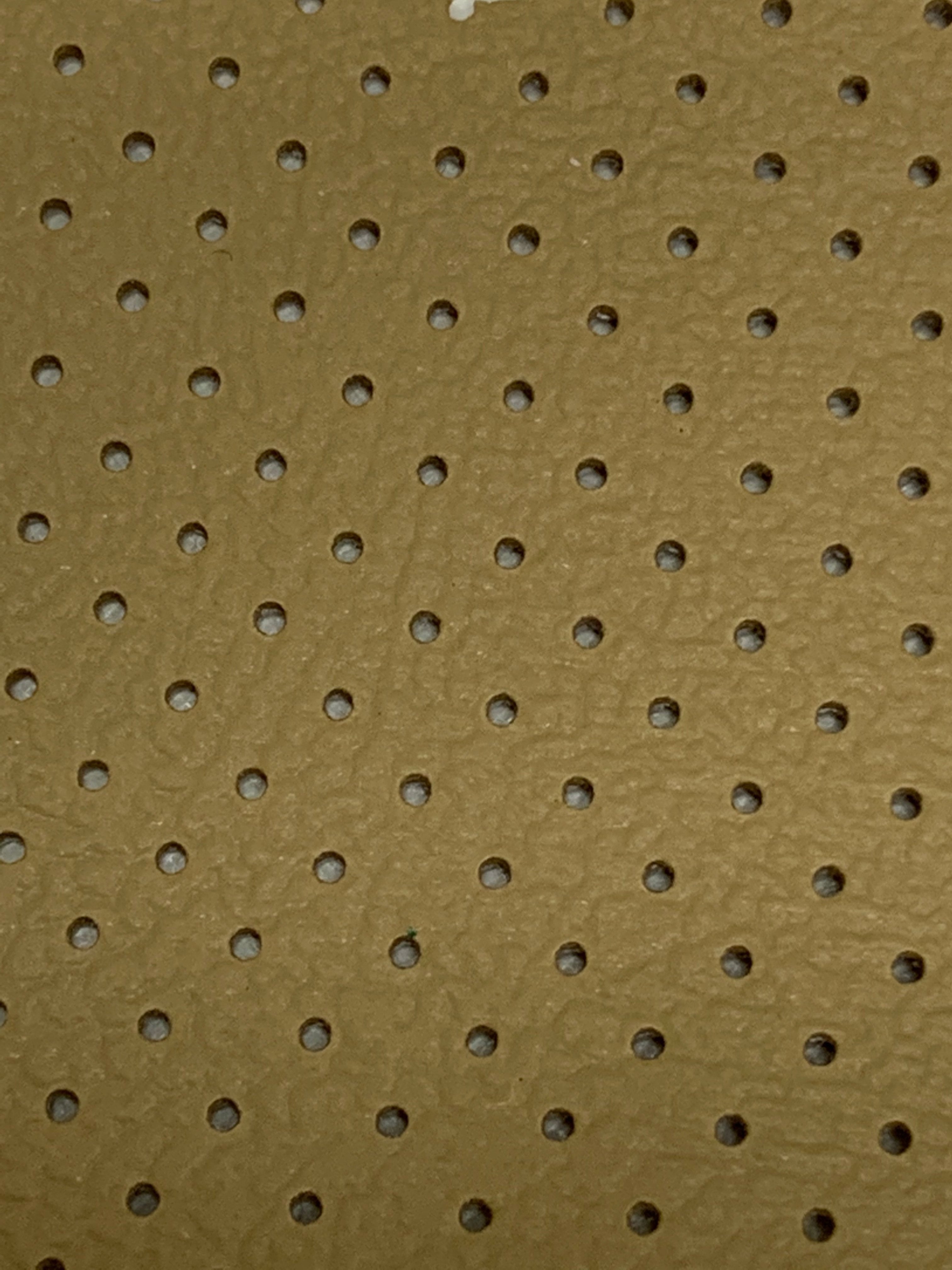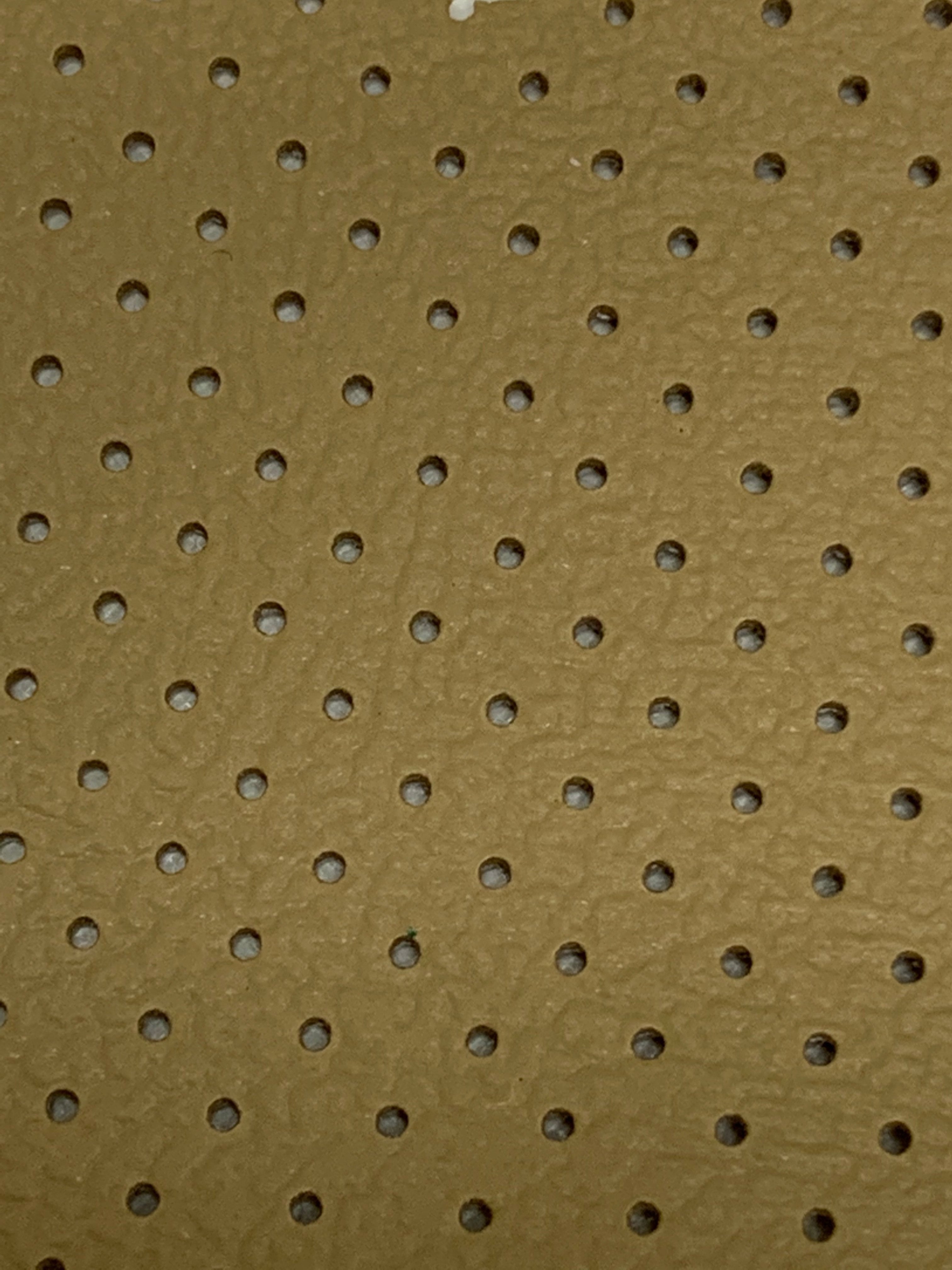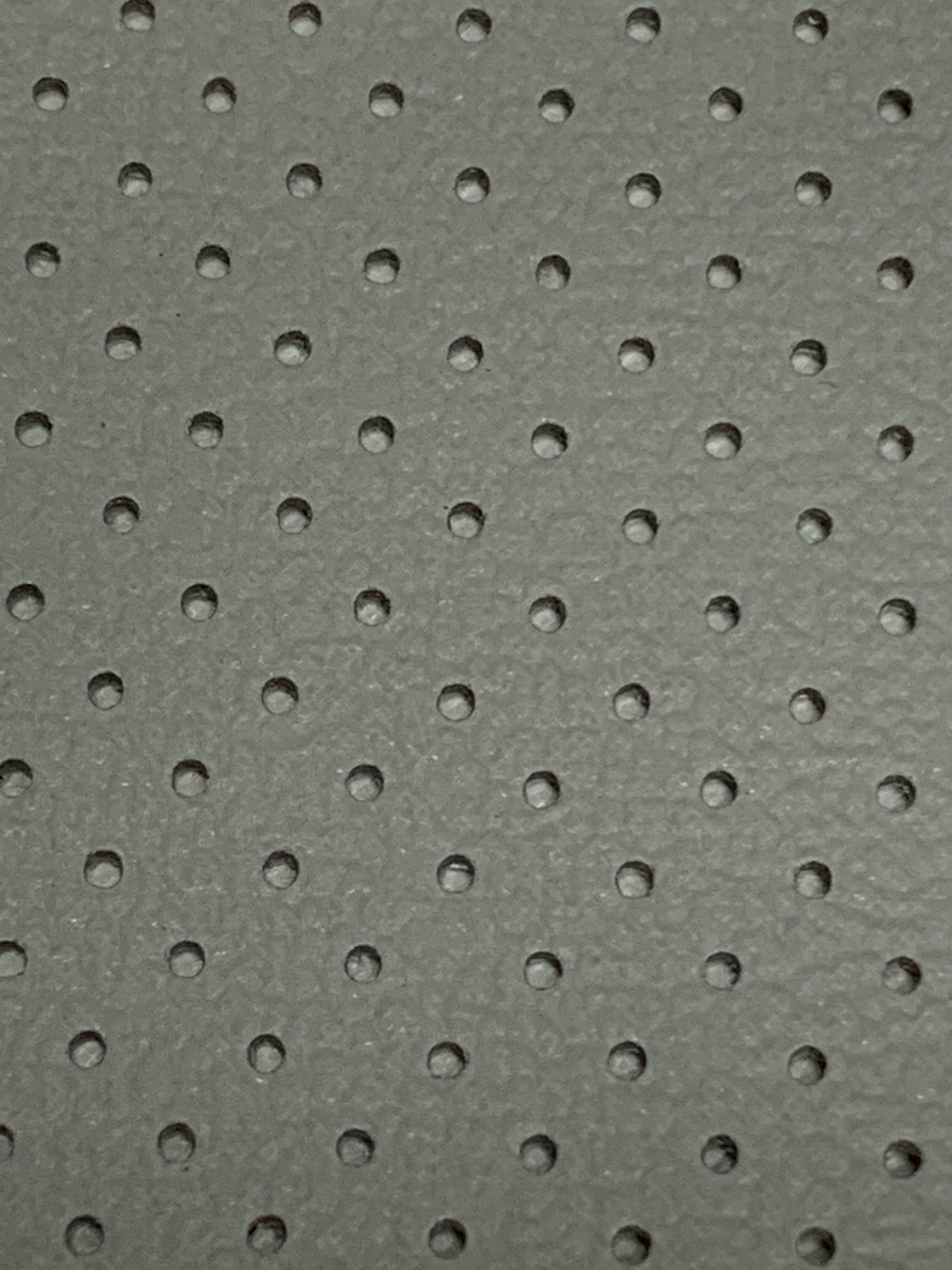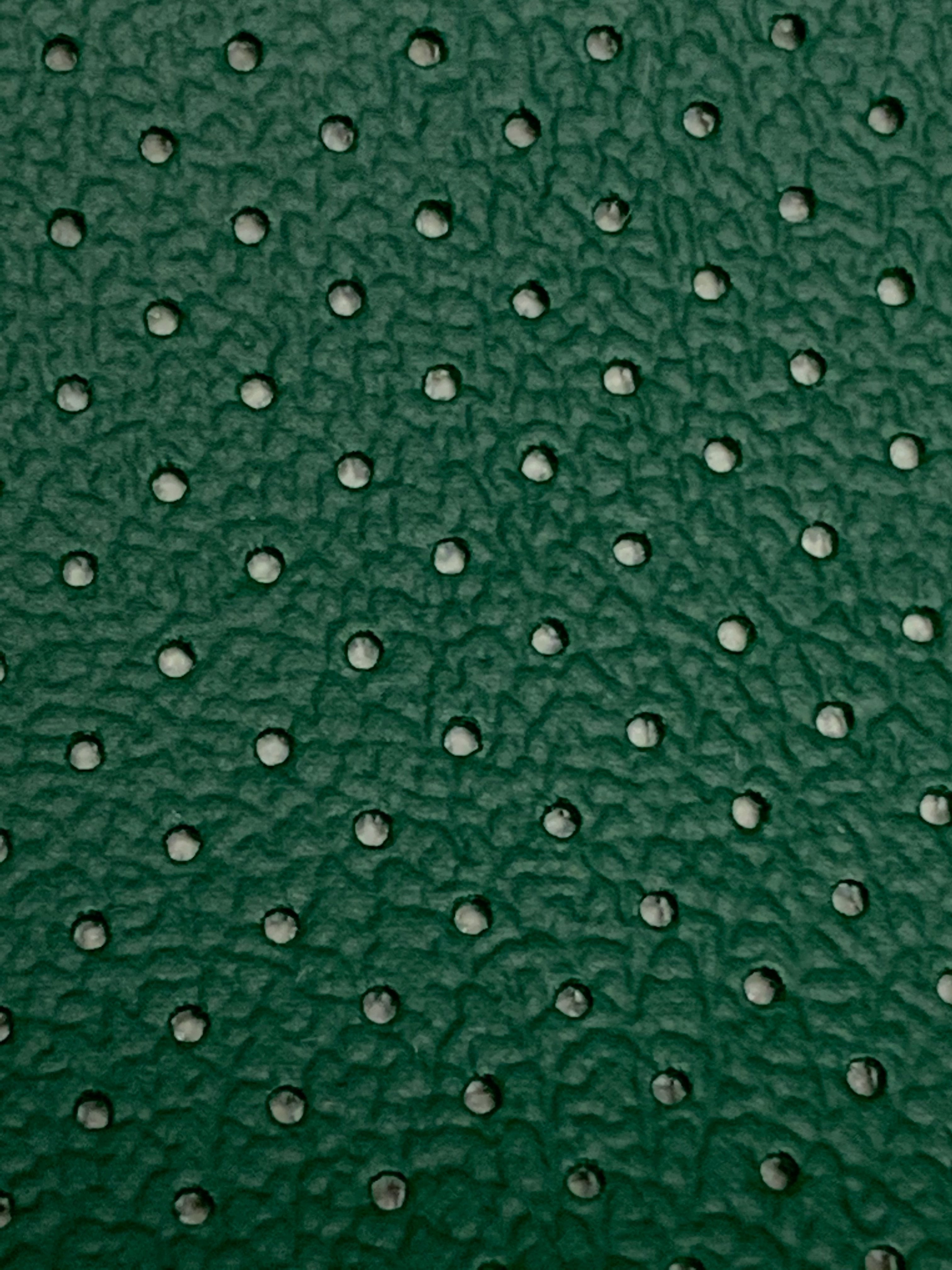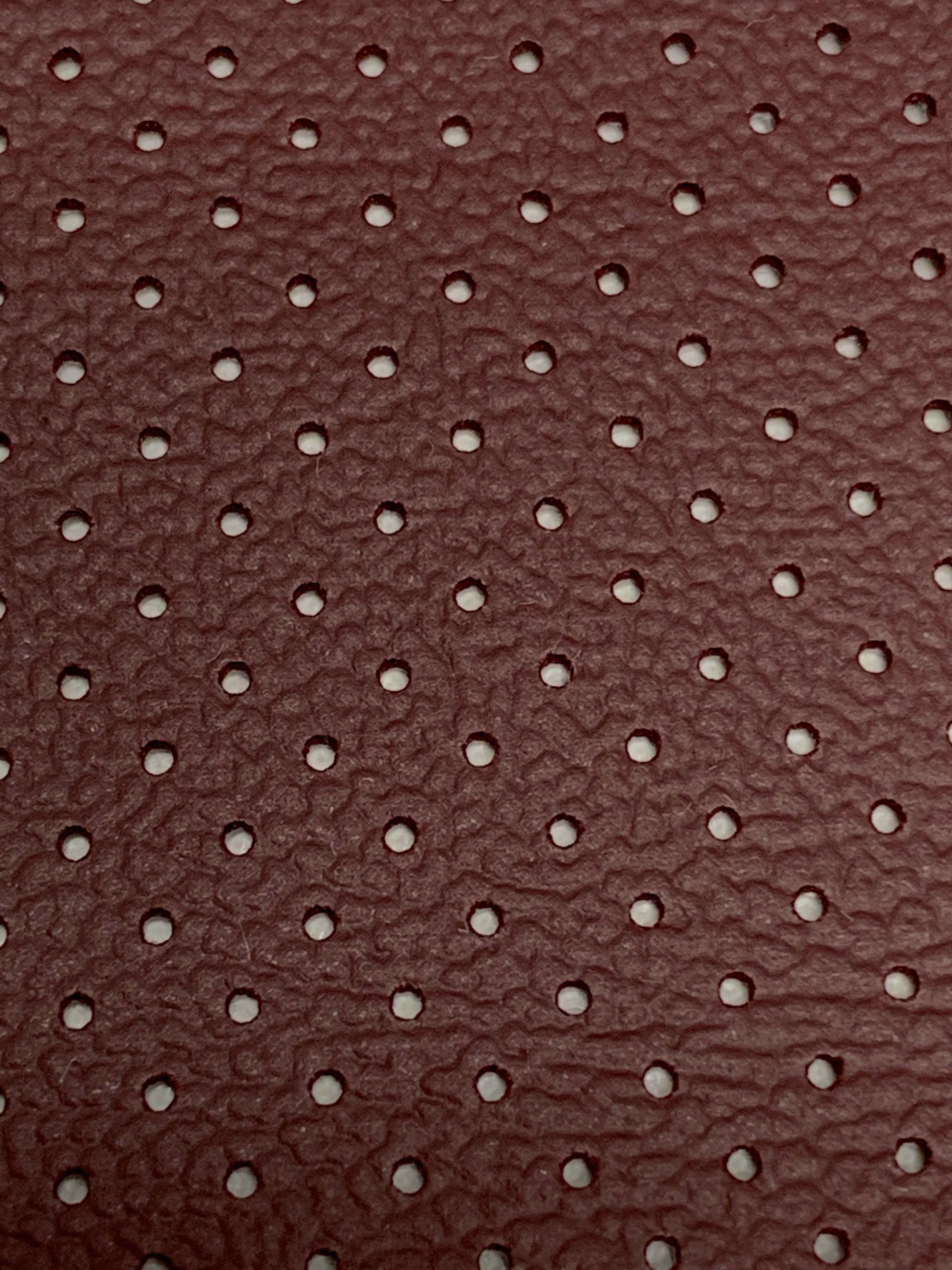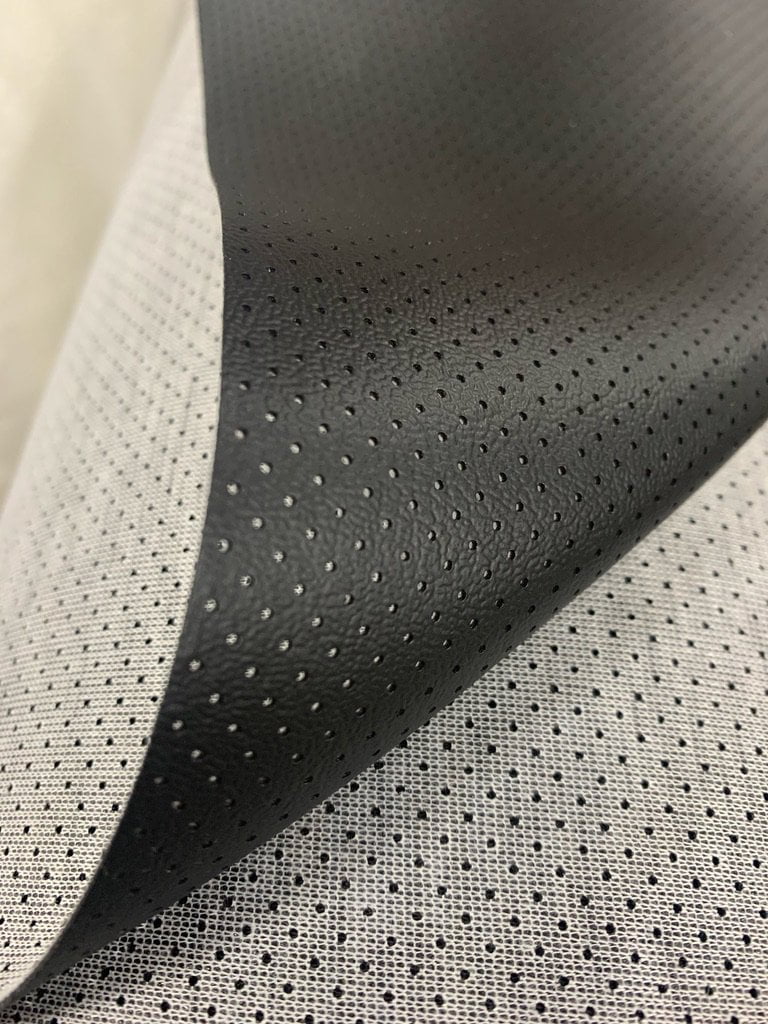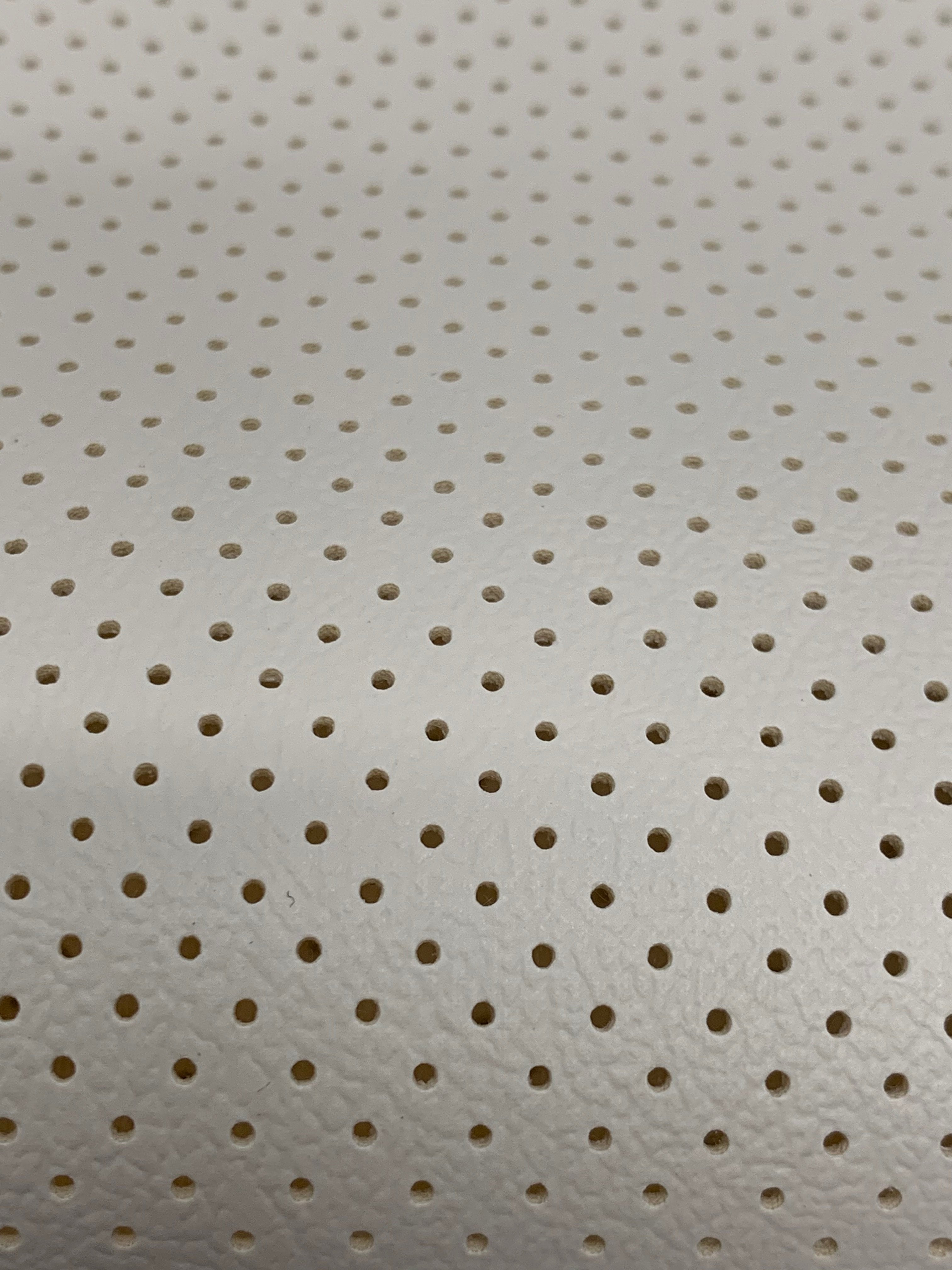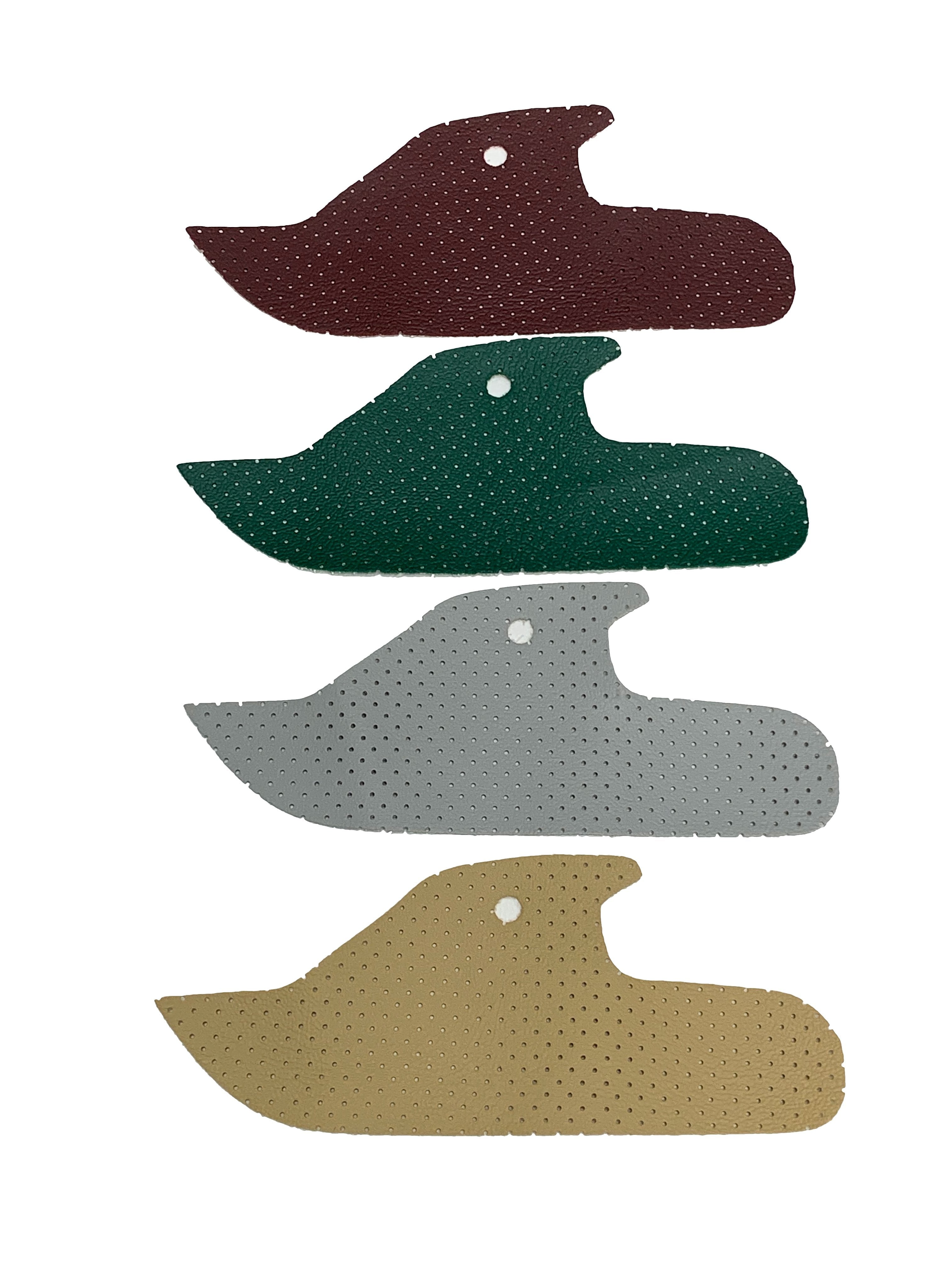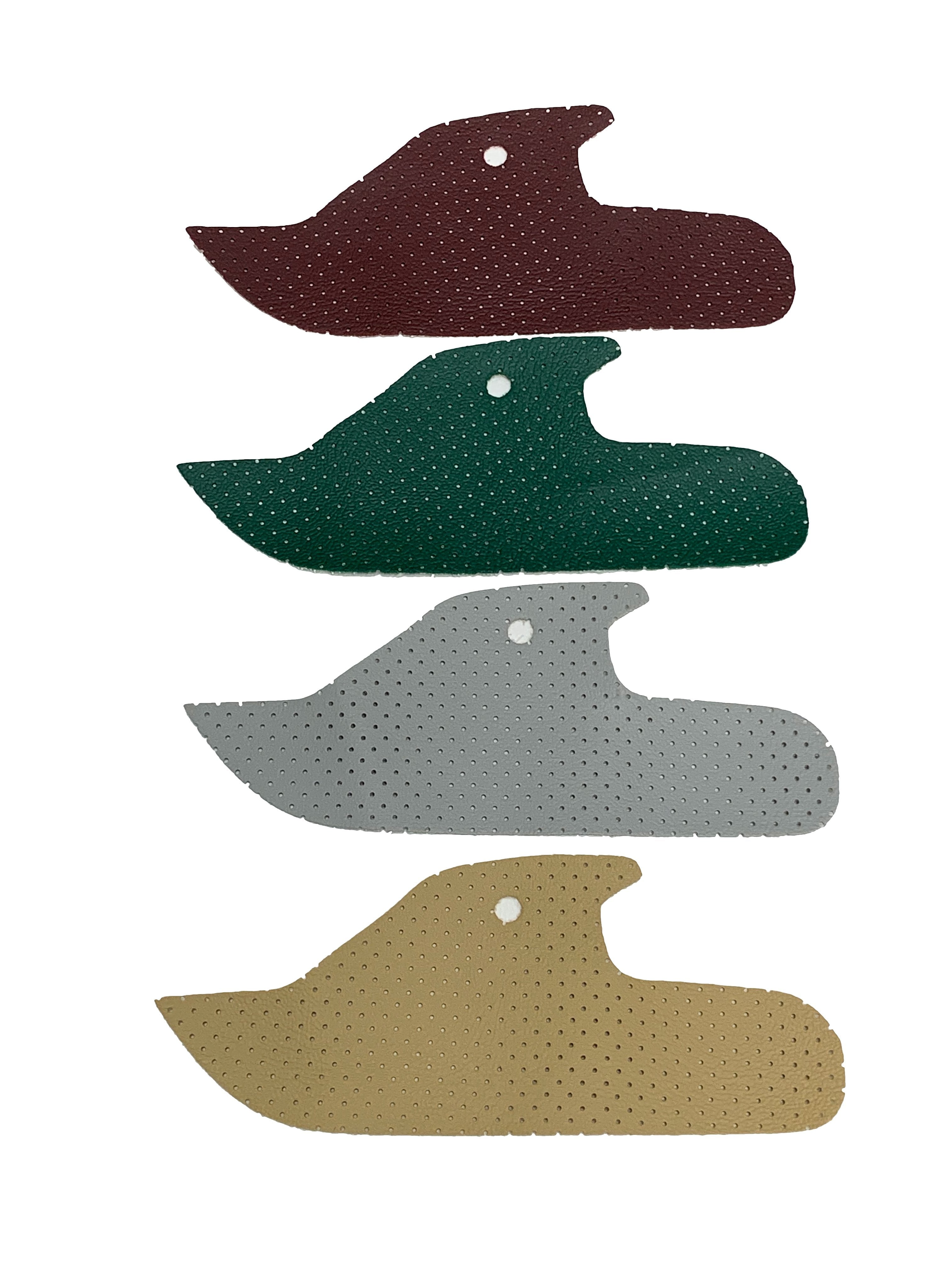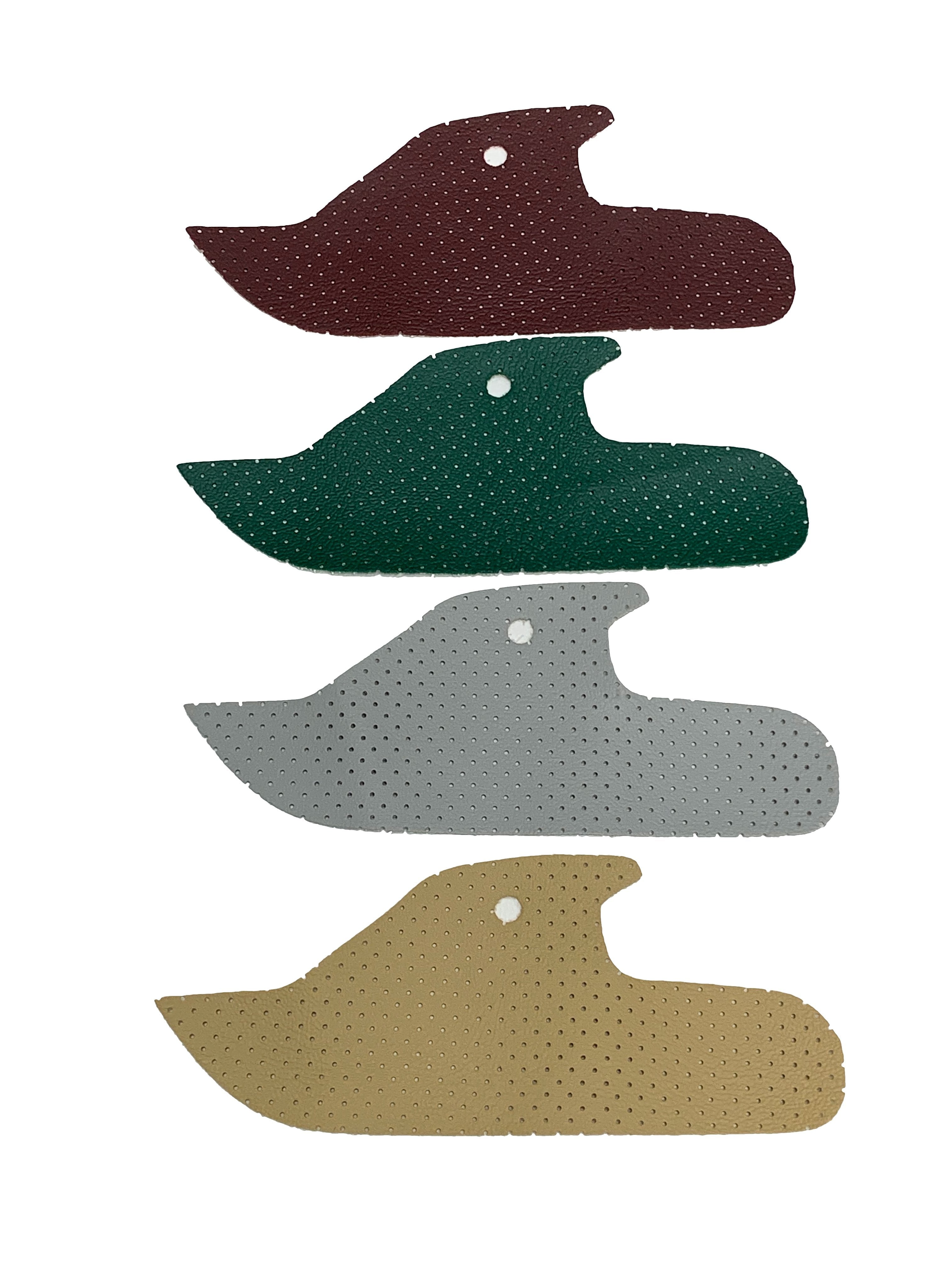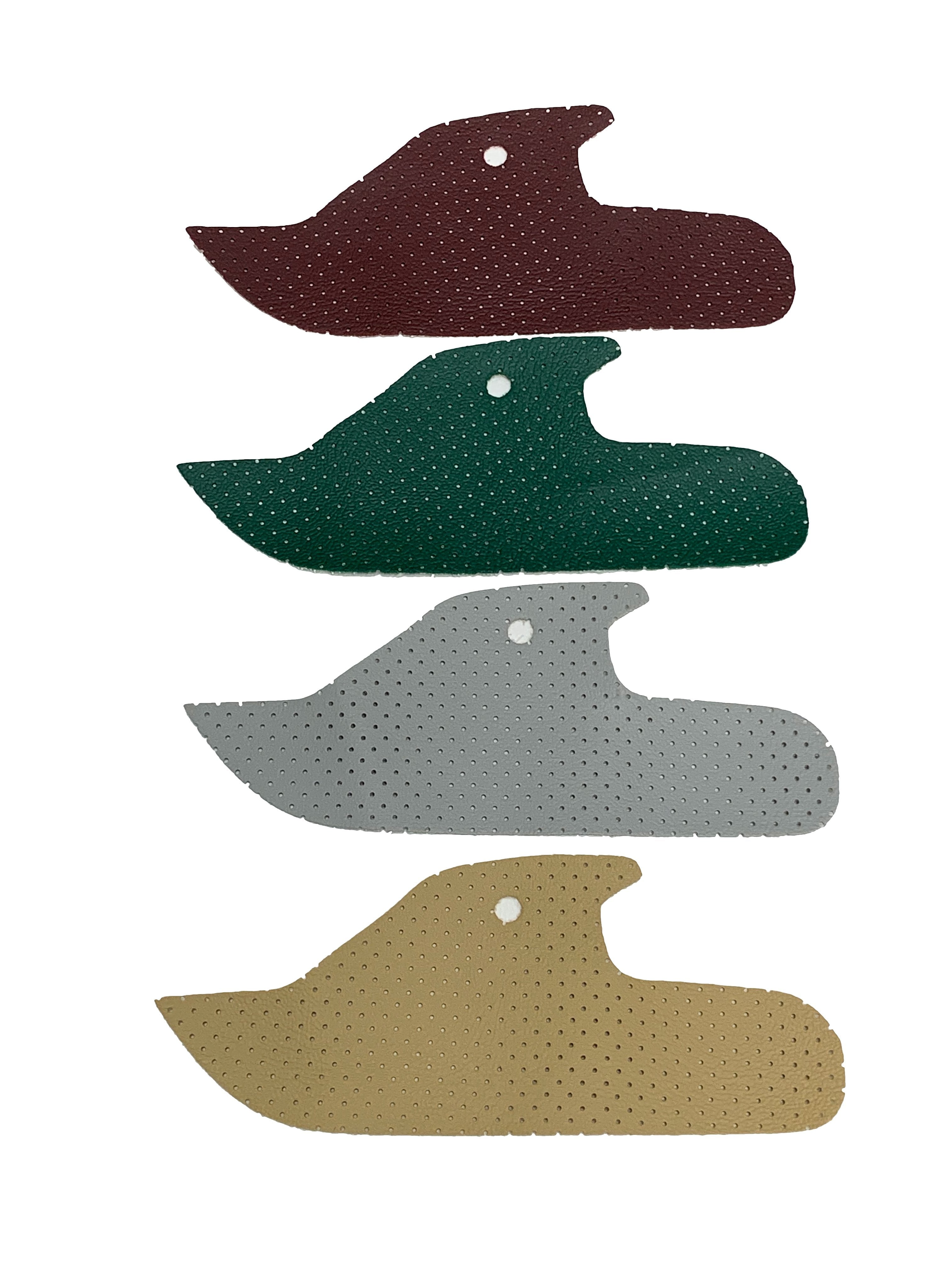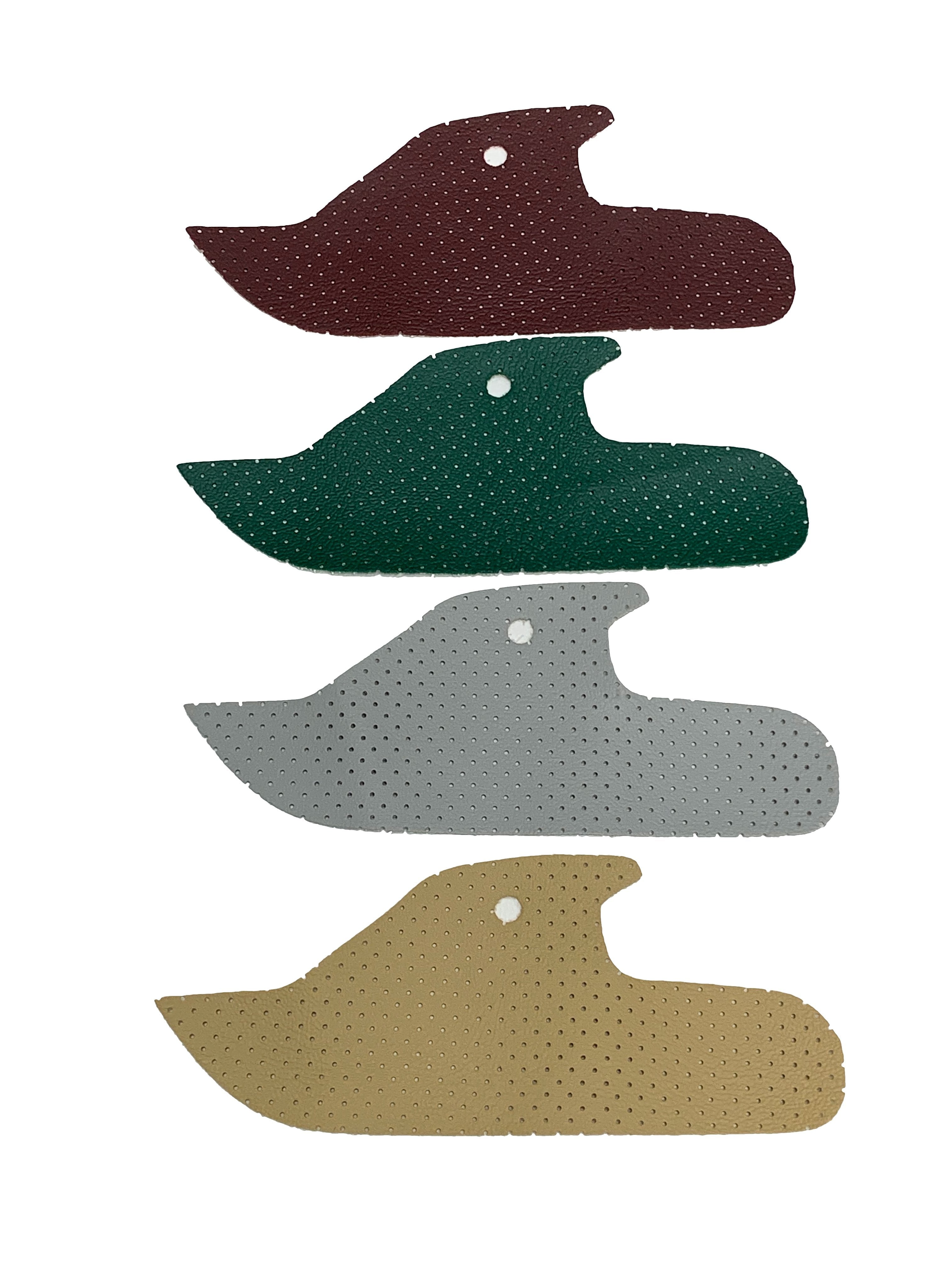 | | |
| --- | --- |
| THICKNESS | 0.95MM |
| WEIGHT | 30 OZ. |
| MOLD/MILDEW RESISTANT | PASS (ASTM G21) |
| UV TREATED | 500 HOURS*(AATCC 16.3 XENON) |
| COLD CRACK | -23F (CFFA -6A) |
| DOUBLE RUB COUNT | 250,000 (ASTM D4157) |
| LEAD & PHTHALATE FREE | CPSIA/REACH COMPLIANT - PASS (16 CFR 1303) |
| FLAMMABILITY | CAL. TECH. BULLETIN. 117-2013 |
| TENSILE | WARP 146.5 LBS. - FILLING 104.7 LBS. (ASTM D5034) |
| TEAR STRENGTH | WARP 17.6 LBS. - FILLING 9.7 LBS.(ASTM D2261) |
| ADHESION OF COATING | WARP 8.8 LBS. - FILLING 4.1 LBS.(ASTM D751) |
| SEAM SLIPPAGE | WARP 58.1 LBS. - FILLING 66.1 LBS.(ASTM D4034) |
| ROLL LENGTH | 30 YARDS |
| ROLL WIDTH | 54" WIDE |
| WATERPROOF | YES |
| SCRATCH RESISTANT | YES |
| SOLD IN CONTINUOUS YARDS | YES |
We are proud of our products and stand behind them 100%. This is why we offer everyone a one year warranty on our vinyl.
Order the wrong color?
Our sales staff can help you with a return or a free exchange (avoid this with free samples).
Did you order the wrong quantity?
We can also help with that.
Was there a manufacturer defect?
Simply let us know.
Did the product not meet your expectations?
Once again just let us know.
Any other problems?
Let us know so we can help fix it.
Let us know of any issues within a year and we will do our best to help make it right. Please note we will refund the cost of the vinyl, but will not cover any labor or service costs or shipping costs. There are situations that we cannot cover. If the material is not being properly maintained or cared for we are not responsible. Please note that harsh chemicals used on this product will shorten the lifespan of the vinyl. This product is UV treated and built for the outdoors, but if it is left uncovered in the sun or exposed to the elements for an extended period of time the vinyl will break down quicker. Boat and furniture covers will help extend the life of your vinyl.
To be covered in this guarantee you must contact us within 365 days of your order. You must also provide proof of purchase. You may also need to send us photos of the issue. You will also need to send us the old material back so we can properly inspect it.
For additional information please check out our return policy and our shipping policy
View our full Return and Warranty policy
Marine Vinyl Fabric warrants to the original retail purchaser, that the membrane is free from defects at the time of manufacturing. We further warrant that the membrane, installed to our published specifications, will be free from defects for a prorated period of one (1) year from the date of purchase, providing the vinyl was properly installed, maintained, and used for its' intended purpose. At no time during the life of this limited warranty, shall MarineVinylFabric's liability exceed the original selling price of the vinyl. It is specifically noted that any other components of the boat are not covered under this warranty. Labor costs are not covered under this warranty.
TERMS, CONDITIONS & LIMITATIONS
Owner shall provide Marine Vinyl Fabric with written notice of any defect in the membrane within fifteen (15) days of discovery. Should the subsequent investigation reveal that the problem(s) were caused by something other than a defect in the membrane, the owner shall be responsible for the cost of investigation made by Marine Vinyl Fabric.
This warranty shall not be applicable for any damage to the membrane resulting from, but not limited to:
1. Natural disaster, including but not limited to earthquakes, lighting, hail, high winds, tornados, hurricanes, etc.
2. Intentional acts, negligence, stains, scuffs, ice or show removal, failure of Owner to use reasonable care, animals, fires, malicious mischief, vandalism, civil disobedience or improper Original Equipment Manufacturer (OEM) installation error.
3. Alkaline attack, hydrostatic pressure or moisture from the sub floor.
4. Normal wear and tear (i.e. fading, abrasion, etc).
This warranty shall be null and void if:
1. There is a change in the use of the boat by the Owner or authorized user, which affects the membrane installation.
2. The membrane is exposed to substances or chemicals which are not compatible with the membrane and have not been previously approved in writing by Marine Vinyl Fabric.
3. Owner fails to pay the cost of investigation and repair of non-warranted problems.
4. The membrane is damaged, penetrated, torn or altered in anyway.
Marine Vinyl Fabric has no obligation under this warranty unless:
1. The bills for membrane have been paid in full to Marine Vinyl Fabric, LLC, the OEM or dealer.
2. Marine Vinyl Fabric agents or authorized installers are allowed access to said installation, to make inspections, during regular working hours.
3. Owner has exercised reasonable care and maintenance in accordance with the recommendations of the manufacturer.
It is expressly agreed that the Owner's sole remedy to a defect in the membrane is replacement of the defective membrane.
This limited warranty, issued at the office of Marine Vinyl Fabric LLC, 539 S Blanding Woods Road, Saint Croix Falls, Wisconsin 54024, and accordingly governed by Illinois law, is not transferable.
MARINE VINYL FABRIC DOES NOT WARRANT PRODUCTS INCORPORATED OR UTILIZED IN THIS INSTALLATION, WHICH IS HAS NOT FURNISHED AND SPECIFICALLY DISCLAIMS LIABILITY, UNDER ANY THEORY OF LAW, ARISING OUT OF THE INSTALLATION OR PERFORMANCE OF, OR DAMAGES SUSTAINED BY OR CAUSED BY, PRODUCTS NOT FURNISHED BY MARINE VINYL FABRIC LLC. THIS LIMITED WARRANTY, GIVEN BY MARINE VINYL FABRIC, SUPERSEDES, AND IS IN LIEU OF ALL OTHER WARRANTIES OR GUARANTEES, WHETHER WRITTEN OR ORAL EITHER EXPRESSED, IMPLIED OR STATUTORY, INCLUDING THE IMPLIED WARRANTIES OR FITNESS FOR A PARTICULAR PURPOSE AND MERCHANTABILITY, WHICH EXTEND BEYOND THE FACE OF THIS CERTIFICATE. MARINE VINYL FABRIC SHALL NOT BE LIABLE FOR ANY INCIDENTAL, SPECIAL OR CONSEQUENTIAL DAMAGES INCLUDING, BUT NOT LIMITED TO, LOSS OF PROFITS, DAMAGE TO THE BOAT OR ITS' CONTENTS, UNDER ANY THEORY OF LAW. NO REPRESENTATIVE OF MARINE VINYL FABRIC HAS ANY AUTHORITY TO BIND MARINE VINYL FABRIC WITH ANY REPRESENTATION OR WARRANTY OTHER THAN IS STATED HEREIN.
Boat Seats, Restaurant Booth, Table Coverings, Car Seats, Golf Cart Seats, Purses, Bank Bags, Gym Mats/Pads, Grill Covers, Barstool Seating, RV seating, RV Skirting, Tire Covers, Punching Bags, Bibs, Upholstery, Outdoor Furniture, Headboards, Workout Equipment, Easy Clean Baby Changing Tables, Belts, Soft Kids Play Blocks, Kids Smocks, Easy Clean Aprons, Hospital Waiting Room Chairs, Hospital Exam Tables, Airport Terminal Seats, Theater Seats, Massage Tables, Golf Club Covers, Key Fobs, Wallets, Coasters, Appliqué Designs, Luggage Tags, Inhaler Cases, ITH, Snap Cases, Notebook Covers, In The Hoop Hooded Towels, Snap Trays, Zipper Bags, Ornaments and so much more.
How Do I Pick the Best Marine Vinyl?
This is a popular question so we answered it in a long blog post. You can check out the full post here --> How to find the best marine vinyl for your project
How Wide is Marine Vinyl?
Marine Vinyl is a standard 54" wide (See Length Guide)
What is the difference between regular vinyl and marine vinyl?
Marine vinyl has special additives added to the vinyl while it's being made. Marine Vinyl protects the material from harsh elements like UV rays, Mold and Mildew, Cold Temperatures and salt water.
How to Clean Marine Vinyl?
This is not a simple question so we wrote a blog post that goes over this topic in great detail. It will give you some awesome tips. Check the article out --> How to clean your marine vinyl?
Keeping your vinyl clean and out of the sun will extend the life of the material. Our material is UV treated, but over an extended period the sun will break down the material. They make boat and furniture covers for a reason and it's because the harsh sun will break down just about anything. You can also use products like 303 and Meguiars Marine Vinyl Cleaners.
How do I get creases out of the folded vinyl?
Lay the marine vinyl flat on the ground in the sun. You can also use a heat gun to smooth it out. You can also use a heating pad or heated blanket on a low setting. The material will always bounce back to its original shape, but it can take time. Smaller pieces can be placed in a drier on a low setting to help smooth it out. Please be careful not to use so much heat where it melts.
Why is the Marine Vinyl UV rating only 500 hours?
This is a standard test length. Most of our products can very easily exceed this length of time. There are a few colors that will fade at a slightly faster speed (red, orange and neon pink - 250 hours). The other colors can easily achieve 500+ hours. Please note to extend the life of any marine vinyl we recommend covering the material when it's not in use. They make boat covers and furniture covers for a reason.
Is Marine Vinyl Waterproof?
Marine Vinyl is made with a PVC top layer and a knit polyester backing. The vinyl itself is waterproof, but if you sew it together water can get through seams.
What is the backing made of?
It has a white knit polyester backing.Most people love our backing because when it's cut it doesn't fray like many other brands. It also helps provide a lot of strength and durability.
What is the texture?
The majority of Flexa marine vinyl has a mild leather texture. The carbon fiber does has a different carbon fiber appearance/texture. The Armadillo texture has larger more pronounced lines and reminds us more of an armadillo shell hence the name. The texture on Modern has straighter lines.
Will my product come in one piece?
If you order less than 30 yards the order should come in one continuous piece. We do our best to send rolls in one piece, but occasionally our team may accidently send out a split roll. If you order a 30 yard roll it may contain up to 1 factory split. If you need the material not to have a split please let us know before the order is filled.
Will the marine vinyl come in one continuous piece?
When you order "By The Yard" the majority of the time it is shipped in one continuous piece. Occasionally rolls will have splits in the vinyl where the vinyl is taped together. This is an area where the backing had to be switched while being made. We do our best to avoid sending this out, but full rolls and larger orders may include splits. Please let us know in the order comments or call us to let us know that you cannot have a split in your roll to complete your project. We will do our best to accommodate these requests but cannot make any promises.
How Much Marine Vinyl Do I Need To Order?
Many people wish there was a magic formula to know exactly how much they need. Unfortunately there is not a magic formula. The best way is to measure the existing material. Be sure to measure the surface as well as the sides and be sure to give yourself a little extra to wrap it around the bottom.
Should we order a little extra marine vinyl?
If you feel like your measurements are accurate you do not need to order extra, but most people like to add a little extra just in case.
How do I order Marine Vinyl?
Simply select the color you need. This item is sold by the running linear yard. A linear yard of marine vinyl is 36" long, but the width will always be 54" wide. For example 2 linear yards would be 72" long by 54" wide. In the space labeled "Quantity" enter the number of yards desired. Lengths are sold as continuous yards in one piece. If you need help figuring out how much material you need feel free to call our experts at 312-300-6737 or email us at Support@MarineVinylFabric.com.
| Length | Dimensions |
| --- | --- |
| 1 Yard | 3 feet x54 inches |
| 2 Yards | 6 feet x 54 inches |
| 3 Yards | 9 feet x 54 inches |
| 4 Yards | 12 feet x 54 inches |
| 5 Yards | 15 feet x 54 inches |
| 6 Yards | 18 feet x 54 inches |
| 7 Yards | 21 feet x 54 inches |
| 8 Yards | 24 feet x 54 inches |
| 9 Yards | 27 feet x 54 inches |
| 10 Yards | 30 feet x 54 inches |
| 11 Yards | 33 feet x 54 inches |
| 12 Yards | 36 feet x 54 inches |
| 13 Yards | 39 feet x 54 inches |
| 14 Yards | 42 feet x 54 inches |
| 15 Yards | 45 feet x 54 inches |
| 16 Yards | 48 feet x 54 inches |
| 17 Yards | 51 feet x 54 inches |
| 18 Yards | 54 feet x 54 inches |
| 19 Yards | 57 feet x 54 inches |
| 20 Yards | 60 feet x 54 inches |
| 21 Yards | 63 feet x 54 inches |
| 22 Yards | 66 feet x 54 inches |
| 23 Yards | 69 feet x 54 inches |
| 24 Yards | 72 feet x 54 inches |
| 25 Yards | 75 feet x 54 inches |
| 26 Yards | 78 feet x 54 inches |
| 27 Yards | 81 feet x 54 inches |
| 28 Yards | 84 feet x 54 inches |
| 29 Yards | 87 feet x 54 inches |
| 30 Yards (1 Roll) | 90 feet x 54 inches |
Customer Reviews
Write a Review
Ask a Question
Filter Reviews:
material
quality
service
vinyl
shipping
project
boat
headliner
people
experience
Good product
I received it in a timely manner, and it worked really well for the project I was working on.
06/22/2023
Brian C.

United States
boat headliner
replaced headliner in a ocean ss and material looks perfect. i used the perforated for vented area above headliner.
06/20/2023
leon r.

United States
The best yet
It's the easiest fabric I've ever used , I will definatley buy and recommend
06/16/2023
Justin C.

United States
Used for a 88 4runner headliner restoration
Used this headliner fabric for a 88 4runner interior retoration for the removable top and turned out awesome. Color was very close to original from 88. The free samples helped out figuring out what color to purchase. Fabric was high quality and the perforation was also very close to toyotas headliner perforation in the original also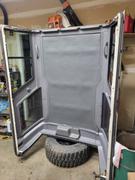 06/08/2023
Robert S.

United States
Great product for seats
Easy to flex and stretch.
05/31/2023
Ronald C.

United States
Headliner vinyl
Great ,quality material at good price, shipping was on time
05/09/2023
Barbara J.

United States
Great Product!
The materials arrived quickly and were of excellent quality. The vinyl was easy to work with, and I was happy with the final project.
05/01/2023
Jerry F.

United States
04/16/2023
Linda J.

United States
Headliner
It was used to replace a head liner in a classic car. Great material.
04/12/2023
Sheri N.

United States
Great quality, fast shipping
Vinyl was shipped very quickly and arrived arrived in perfect condition. Excellent quality material. Very pleased with the purchase.
04/11/2023
William N.

United States
Headliner Material
Really good quality material and fast shipping. So all in all great service!
04/06/2023
Larry H.

United States
quick shipping, excellent quality material
very good quality material .will buy again when needed
04/01/2023
SUE M.

United States
Perforated headliner
Great. Worked perfectly.
03/18/2023
John P.

United States
Excellent product
Better quality than the others advertise and sell. Excellent advice from the staff.
03/17/2023
Dan H.

United States
03/14/2023
Kevin C.

United States
Great service, price and product
Waiting for some warmer weather but I find this material perfectly up to snuff.
Choosing a selection results in a full page refresh.
Press the space key then arrow keys to make a selection.
Use left/right arrows to navigate the slideshow or swipe left/right if using a mobile device