Marine Vinyl Upholstery Samples
Customer Reviews
Write a Review
Ask a Question
Filter Reviews:
samples
vinyl
quality
colors
material
order
price
shipping
company
fabric
03/19/2023
Robert B.

United States
Telescope cover. 5yds 30oz white vinyl
I needed a new scope cover with a large waterproof zipper. The scope cover is 54" wide by 78" tall. I have a large zipper on the side of the cover so I can put it on from the side, and not over the top, which is hard when the scope is over your head and the cover is heavy. I have a stiff plastic rod keeping the top straight, which I hold to slid and place the cover on the scope. I have about 4" of vinyl flap held down by magnets to keep the rain off the waterproof zippers. I was able to unzip, take the cover off the scope, then put it back on the scope, and zip it up again in 30 seconds flat. It pays to plan. Assembly: It was a matter of learning a new technique. For the zipper, you must glue the zipper to the vinyl before sewing. If not, when sewing you tend to stretch the vinyl pulling it through the sewing machine, and when released, it makes the zipper buckle (the zipper will not stretch with the vinyl). With the buckling, the zipper might be harder to close, but depending on the zipper type, it might (will) go off track making it almost impossible to open again. The first time around we had to cut the stiches and do it over again, but we glued the second time around and that was a huge improvement. Glue: We used the recommended cement, HH-66. I don't know if we got an old batch, but the directions are similar to contact cement. NOPE! If you wait the 2-5 minutes indicated , the glue will be dry! We even clamped it afterwards, and it did not stick at all. We also found the glue got a little gloppy near the end of the project, HH-66 thinner might be useful here but that is just as expensive than we were managing anyway without it. Again, this is our experience, maybe we got an old batch of the glue, but we had no problems after we adapted our technique. Do to the fast drying, we glued it and contacted the material as fast as we could. Have some firm straight edges available (a firm piece of OAK) and some weights (lead weights, diving weights, etc), Do a foot or two, contact the material, place the straight edge on it, and then put the weights on it. I think you will find you need about 5-10 minutes of waiting time before doing the next stretch. The glue is soft, so work gingerly. Full cure is 24hrs. Then you can sew. Take some scrap pieces of vinyl and practice to get a feel for gluing and sewing, it is a must and will be well worth it. Buy a roll of brown paper from Home Depot and have some kitchen wax paper handy as well. If you are doing vinyl to vinyl, I also recommend gluing first to minimize stretching and buckling. You can glue it, put it on the floor, put on the weighted strait edge, and be assured of alignment at sew time, without having to align in the sewing machine. For complete waterproofness, apply the cement like a paint to the outside of the stiches, just brush it on to exposed threads. Sewing machine: Less foot pressure, not more. You are sewing soft "foamy" material, not fabric. Get a large table to place the material on, you control the rate, with the sewing machine "tractors" doing some of the work. The tractor provide the timing/spacing, you provide the motive force. Get comfortable, and be steady and consistent. Get a helper to keep the pull consistent and to move the material. Stop and regroup if you think you are loosing control. Once you get the hang of it you will feel like a professional! Bob How do I attach a picture?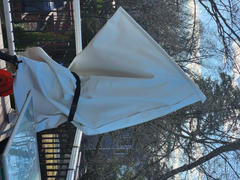 03/19/2023
Bruce B.

United States
The old pontoon
The purchase was everything you should expect. Good prices, good service, good delivery.
03/17/2023
Sandra S.

United States
Great material
Awesome quality excellent price couldn't ask for more
03/17/2023
John W.

United States
Great Product
Outstanding selection delivery cycle time and quality of product. The website gives you several options for volume and shipping discounts. Product is much superior in quality and price to big box retail sewing and hobby stores.
03/17/2023
Gary S.

United States
SPECIAL PRODUCT APPLICATION
Thank you for the sample - I was building a special enclosure for a neighbors existing TV Built-In. They removed a old Projection TV and I was challenged to come up with a way to install a 55" LED TV and then fill in the remaining part of the existing cabinet. I initially thought of using your Marine Vinyl; however as it turned out I ended up using the extra space for storage fitting the opening with a large pull-out drawer below the TV. I am very impressed with your products and will be considering it for a future project. Thank you for sending me a sample!
03/15/2023
gerry h.

United States
material purchased
What I asked for and what I received were perfect. And the best part at a great price compared to my local store.
03/15/2023
Derek B.

United States
Good Material
Great just was not the shade I was looking for. Superior product though. Will recommend to everyone looking for boat interior fabrics
03/13/2023
Donald R.

United States
Loved the Marine vinyl I received.
Made 3 valet trays so far. Ordering was straight forward and I am glad I bought the samples set. Really helps.
03/12/2023
DONALD B.

United States
Marine Vinyl Samples
The samples were great! Used to match paint samples and it was easy to match. Colors seemed to be very good all the way around! Thank you for an excellent product.
03/10/2023
Bryan A.

United States
Great Company
Excellent product and price. Quality vinyl to reupholster my boat at a very affordable price. Color choice is awesome and can't wait to see it all completed.
03/09/2023
Greg M.

United States
Great
Great service and quality
02/22/2023
Kathleen R.

United States
Thumbs Up
Quality, color and material all great.
02/22/2023
Alesia T.

United States
Excellent service
I am thrilled about the sample received!! I will definitely be buying vinyl. I can easily match fabrics to the vinyl. Absolutely pleased!! Fast shipping!
02/17/2023
Cara F.

United States
Fast Shipping and a quality product!
Being new to upholstery, I was hesitant to spend tons of money on material for our pontoon. I chose Marine Vinyl after reading the reviews and testimonials. So far, so good! The vinyl came in fast and has been easy to work with. I look forward to seeing how it holds up!
02/17/2023
Erin C.

United States
Vinyl for boat seats
Easy to use! Used to cover pontoon seats!!